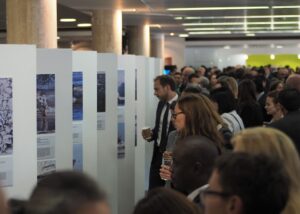 The Arctic – On Our Watch, a photography exhibition organised by the Clean Arctic Alliance, is being held at the International Maritime Organization's MEPC 73 meeting, 22 – 26 October 2018
The exhibition will be open all week in the Delegate's Lounge (Mezzanine floor). The Clean Arctic Alliance is sponsoring the coffee break on Monday 22nd October at 16h00, when Arctic explorer and photographer Pen Hadow will introduce the exhibition in the Plenary meeting and be available during the coffee break.
This collection of images from 25 photographers forms visual journey around the Arctic.
The images were put forward by both amateur and professional photographers to show that this seemingly remote and inaccessible region is home to uniquely adapted communities and iconic wildlife. They also reflect the Arctic as it is today and how it is changing, and how important it is to the work at the International Maritime Organization (IMO) and decisions that the delegates will make this week.
The IMO's work, to address the risks associated with the use of heavy fuel oil (HFO) – the dirtiest of marine fuels, to agree on black carbon and greenhouse gas emission reduction measures, to deliver a mandatory code for international shipping operating in the Arctic waters, is a critical contribution to securing the future of the Arctic.
Intervention from polar explorer Pen Hadow, at MEPC73
Thank you Chair,
My name is Pen Hadow, and it is my privilege to address you today.

Over the last 25 years I may have spent more time than any other person travelling across the sea ice of the international waters that surround the North Geographic Pole.

I'm here to encourage you to visit "The Arctic – On Our Watch", a photographic exhibition staged in the Delegates Lounge all this week, organised by the Clean Arctic Alliance, to bring images of the Arctic Ocean and its coastal regions to us here and to encourage you to re-ignite your combined enthusiasm for a ban on the use and carriage of Heavy Fuel Oil, which was proposed in this room last April, and which many of you supported.

As the atmosphere and oceans warm up and the summertime sea ice consequently thins and recedes, there is escalating interest and associated damaging environmental impacts from commercial fishing, offshore mineral exploration and extraction, and most especially use of the emerging, lower-cost shipping routes across the Arctic Ocean.

As director of the 90º North Unit, an NGO exclusively focused on research and conservation of the Central Arctic Ocean's wildlife and ecosystem, last summer I took two 50ft sailing vessels into the Central Arctic Ocean – penetrating 300 miles north of the territorial waters of the coastal states. Ours were the first vessels in history to enter these waters without ice-breakers, something only possible because of the retreating sea ice.

The Arctic Ocean is NOT a solid block of ice from surface to seabed. It is an ocean, with a thin skin of sea ice, about 2-4 metres thick. It is NOT lifeless. Quite the opposite. It is rammed with life. Every Arctic ice floe hosts trillions of life-forms ranging in size from 100,000kg mammals and 6-metre long fish, to specialist plankton and essential microbes.

Sea ice is NOT simply frozen sea water – a 'geophysical phenomenon'. Sea ice is a HABITAT. It is a habitat for a globally unique 'floating ice-reef ecosystem' that supports some of the world's most popular mammals and apex predators: Polar Bear; spiral-toothed Narwhal; white Beluga whale; SIX species of seal; the double-tusked Walrus; Orca; Gray Whale; and weighing in at 100,000kg the second largest animal on Earth, the Bowhead Whale, which is also the world's longest-living mammal, capable of exceeding 200 years old.

You may imagine the abundance and diversity of smaller animals and plants in this ocean to enable such large animals to live here. You may also imagine how the loss of their sea-ice habitat is already stressing these animals.

Many of these species have had to evolve extreme strategies to survive and breed here. When I tell you the female Greenland Shark grows up to 7 metres long, but at the rate of only one centimetre per year. That the females of the species do not breed until they reach 150 years of age. And that they are the world's longest-living animal living up to 500 years old, you may begin to appreciate just how extreme these adaptations have had to be – and how long it would therefore take for Arctic Ocean species recovery given such slow growth rates and lengthybreeding cycles in this, the shallowest, coldest, darkest, fastest-changing, and least-understood of our oceans.I support the Clean Arctic Alliance's call for a ban on Heavy Fuel Oil in Arctic waters for it is one additional stressor we CAN remove, here and now, from this wildlife's increasing struggle to survive.

The Arctic is vulnerable and the risks associated with increased shipping activity urgently need to be addressed. The work of the International Maritime Organisation and many of the decisions that you, the delegates, will be making during MEPC this week on the use of Heavy Fuel Oil, on greenhouse gas emissions, and on marine plastic litter, are absolutely critical to the future protection of the Arctic Ocean's wildlife.

And so I'd like to invite you all now to join me and members of the Clean Arctic Alliance to our sponsored Coffee Break, and we'll be delighted to talk to you during the break or anytime later this week at 'THE ARCTIC – ON OUR WATCH' photographic exhibition. Thank you, again, Chair.
Pen Hadow
Director
Photographers:
Ted Cartwright (copyright 90 Degrees North Unit photo provided by Pen Hadow)
Nick Cobbing, UK
Alaska Chadux, LLC
Dmitry Lisitsyn, Sakhalin Environment Watch
Olga Chashina, Sakhalin Environment Watch
Riet Brouwer
Photos: DJ Tyson, Pacific Environment