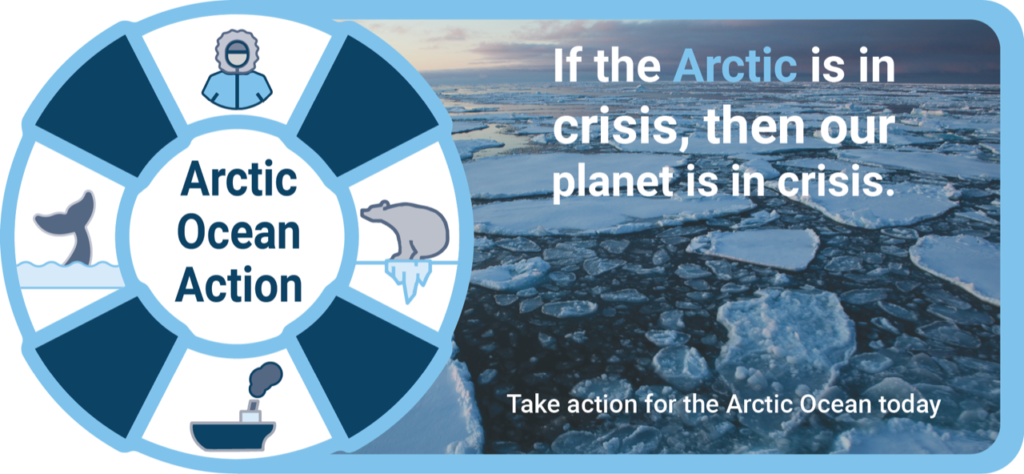 Take Action
Sign up
Organisations
Individuals
Take Action
The Arctic is crucial to regulating the world's climate and sustaining life on earth.
The Arctic is an ocean surrounded by land and plays a key part in maintaining the climate across the globe. It supports highly productive and diverse wildlife populations and is the home of Indigenous communities who depend on a healthy and functioning polar ecosystem.
The Arctic is warming four times faster than the rest of the planet.
Over the past four decades the overall volume of sea ice has decreased by a staggering 73 percent. Blue ocean events – days with no Arctic summer sea ice – could occur as soon as the 2030s. Sea levels will continue to rise threatening low-lying vulnerable regions, as ice sheets retreat and collapse releasing freshwater into the ocean. We are perilously close to tipping points that could lead to cascading and irreversible climate impacts unprecedented in human existence.
If the Arctic is in crisis, then our planet is in crisis.
The loss of Arctic sea ice is also resulting in increased industrial activity and new shipping routes. Commercial and cruise ship traffic produces high levels of climate pollutants and emissions that are damaging to human health, marine discharges that are harmful to wildlife and disturbance from underwater noise. With increased traffic also comes increased risk of accidents, oil spills and loss of life in remote, poorly chartered and difficult to navigate waters.
What happens in the Arctic does not stay in the Arctic.
Now is the time to act.
Emissions of short-lived climate pollutants, such as black carbon, are powerful climate forcers that contribute to global heating. Black carbon particles settling in the Arctic, increase the snow and ice melt, reduce reflectivity and accelerate warming. Reducing emissions of short-lived climate pollutants will help to reduce the rate of climate change and is critical to meeting long-term climate goals.
As Arctic shipping grows, the use of heavy oil-based fuels which emit high levels of black carbon will contribute to the disintegration and collapse of Arctic ice. Switching to cleaner fuels and using diesel particulate filters, or alternative forms of propulsion are possible today and will significantly reduce black carbon emissions.
Continuing the use of heavy oil-based fuels by installing scrubbers to reduce air pollution must be stopped, as the wastewater produced in the process is discharged into the sea creating an ocean pollution problem.
Reducing greenhouse gas emissions from ships by half by 2030 is essential to respond to the climate crisis and keep global heating below 1.5°C. Efforts to reduce all greenhouse gas emissions arising from ships must meet this challenge.
The Clean Arctic Alliance believes a holistic approach is required and urges the international community to support an equitable transition and urgent action to reduce shipping impacts on Arctic wildlife, habitats, ecosystems and communities, and specifically calls for:
urgent action to halve ship climate impacts by 2030,
an immediate switch to distillate or cleaner non-fossil fuels to cut ship black carbon emissions,
a ban on the use of scrubbers.
Please add your support to this call to action for the Arctic by signing up below:
Join the call for Arctic Ocean Action
Please consult our privacy policy.
*= Mandatory field
Sign up
Organisations
Individuals