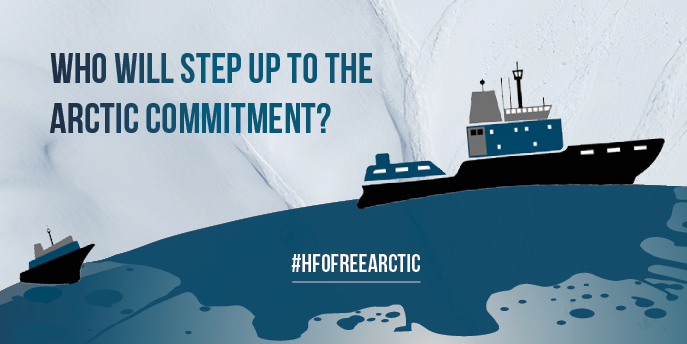 On January 25th 2017, the Arctic Commitment was launched at the Arctic Frontiers conference in Tromsø, Norway. The Arctic Commitment is an initiative by the Clean Arctic Alliance and cruise ship operator Hurtigruten, and calls on businesses and organisations to step forward and call for a phase-out of polluting heavy fuel oil (HFO) from Arctic shipping.
Following the Arctic Commitment launch, our goal is now to encourage a broad range of stakeholders to sign up to the Arctic Commitment, creating a groundswell of support for an IMO phase-out of HFO in Arctic shipping by 2020, and to urge shipping companies operating in the Arctic to switch from the use of HFO to cleaner fuels.
The Arctic is one of the few regions of the world that has remained largely untouched by large-scale industrial development. This largely pristine environment is nonetheless host to millions of people with rich, often ancient cultures as well as a great diversity of ecosystems and marine life. The Arctic is also of major global importance due to its crucial role in regulating world weather patterns and ocean currents.
However, climate change poses significant challenges to this vulnerable environment due to the rapid melting of Arctic sea ice. These changes lead to the prospect of considerable growth in Arctic marine traffic as new sea routes become gradually accessible.
Heavy Fuel Oil (HFO) is, by volume, the most commonly used shipping fuel in the Arctic and the Arctic Council has categorised its use as one of the most significant threats to the Arctic environment. HFO is an extremely viscous and toxic fuel and the potential for an HFO spillage poses a major risk to Arctic marine ecosystems and to the communities that depend upon these. The combustion of HFO produces high levels of air pollutants, including black carbon, that are harmful to human health and act as powerful regional climate change accelerators.
In recognition of the serious impacts and associated risks of HFO use in polar regions, the International Maritime Organization (IMO) has already amended the MARPOL Convention to ban the use and carriage of heavy grade oils by ships in the Antarctic.
It is imperative that we acknowledge the grave risks to the Arctic environment and beyond and call for mitigation measures, including a phase-out of HFO use for Arctic shipping.
WE, THE UNDERSIGNED
CALL UPON the international community to acknowledge the importance and vulnerability of the Arctic region and to pledge to protect this unique environment;
ACKNOWLEDGING the uniqueness of the Arctic region; the diversity of its ecosystems and the richness of its peoples' cultures;
RECOGNISING that development needs to take place at a pace and on a scale that is supportable by the fragile and changing Arctic ecosystems;
UNDERSTANDING the Arctic's important role in the regulation of the global climate, notably its role in helping to maintain stable global temperatures;
NOTING WITH CONCERN the rapid melting of the Arctic sea ice and the alarming projected rise in global sea levels;
AWARE OF the particular vulnerability of the Arctic environment; its peoples, wildlife and ecosystems, to the effects of climate change, particularly the melting of polar ice;
NOTING the rapid expected growth of ship traffic in the Arctic region and that most of the fuel carried by vessels in the Arctic is heavy fuel oil;
RECOGNISING the harmful impact of heavy fuel oil combustion on the Arctic environment, resulting in particularly high emissions of particulate matter, including black carbon, which accelerates the warming of the Arctic and the melting of ice;
ALSO RECOGNISING the harmful impact of heavy fuel oil combustion upon human, animal and plant life in the Arctic regions due to the high emissions of sulphur and nitrogen oxide, sulphates and other harmful forms of pollution;
UNDERLINING the considerable operational risks inherent in Arctic maritime navigation and, with these, a heightened risk of environmentally disastrous HFO spills;
ACKNOWLEDGING the potentially grave consequences for Arctic marine ecosystems in the event of a heavy fuel oil spill due to its high viscosity making it virtually impossible to clean up in the cold, ice infested and often inaccessible waters of the Arctic, with potentially disastrous consequences for Arctic marine wildlife, ecosystems and communities;
RECALLING that the Polar Code encourages ships not to use or carry heavy fuel oil in the Arctic
AGREEING that a switch from the use of heavy fuel oil to cleaner fuel types by ships and the application of adequate emission reduction technology would significantly advance the objective of protecting the Arctic marine environment;
CALL FOR a phase-out of the use of heavy fuel oil by ships in a timely manner and URGE International Maritime Organization Member States and stakeholders to advance this goal.
Download a pdf of the Arctic Commitment text.
Download  a pdf of the Arctic Commitment leaflet.
Watch signing of Arctic Commitment by Hurtigruten's Daniel Skjeldam and Clean Arctic Alliance's Sian Prior »
Watch full "No to HFO" event & Arctic Commitment signing at Arctic Frontiers in Tromsø »
Signatories:
The Clean Arctic Alliance:

90 North Unit, Alaska Wilderness League, The Altai Project, Bellona, Clean Air Task Force, ECODES, Environmental Investigation Agency, European Climate Foundation, Friends of the Earth US, Global Choices, Greenpeace, Green Transition Denmark, Icelandic Nature Conservation Association, International Cryosphere Climate Initiative, Nature And Biodiversity Conservation Union, Ocean Conservancy, Pacific Environment, Seas At Risk, Stand.earth, Surfrider Foundation Europe, Transport & Environment, WWF Arctic Programme, and WWF Finland.

Hurtigruten, international expedition cruise operator
Eyak Preservation Council (USA, Alaska)
Native Land Conservancy (USA)
Lewis Pugh, UNEP Patron of the Oceans and polar swimmer
Bernice Notenboom, explorer, filmmaker and journalist
Svein Tveitdal, former UNEP Director, CEO Klima2020
Adventure Canada, international expedition cruise operator
Bas Eickhout, MEP, Greens/EFA (Netherlands)
Hafnasambandid (Associated Icelandic Ports)
Faxaports (Iceland)
BICEPS Network (Boosting Initiatives for Collaborative Emission-reduction with the Power of Shippers)
Sir Ranulph Fiennes, Polar explorer
Jonathan Bradshaw, Polar Advocate and Author
Graeme G Kelleher, Ocean Elder
Eric Philips, Director, Icetrek Expeditions, President, International Polar Guides Association
Alain Hubert, Explorer and President of the International Polar Foundation
Sirpa Pietikäinen, MEP, Kansallinen Kokoomus (Finland)
Maritime LNG Platform (Germany)
Kawerak, Incorporated (USA, Alaska)
Nederlandse Vereniging van Kapiteins ter Koopvaardij (NVKK) – (Dutch Association of Captains for Merchant Shipping)
Merja Kyllönen, MEP and former Transport Minister of Finland, GUE/NGL
Arctic Security Consultants, Canada
Claudio Boezio, Utopia Navalis, designer of clean powered vessels
Magnus Johannesson, Former Director, Arctic Council Secretariat and former Maritime Director, Iceland
Callum Roberts, Professor of Marine Conservation
Kristina Gjerde, High Seas Advocate
Davor Škrlec, MEP,The Greens/EFA
Enkhuizer Zeevaartschool (Enkhuizen Nautical College)
Ruud Koornstra, Chairman of Smart Climate Opportunities, Chairman of the Dutch Association of Green Entrepreneurs, and Energy Commissioner of The Netherlands
Tiemo Wölken, MEP – Group of the Progressive Alliance of Socialists and Democrats in the European Parliament
Eco-union (Mediterranean Association for Green Economy Transition)
Ecologistas en Acción (Spanish environmental grassroots NGO)
Javier Benayas, Professor, Ecology Department, Universidad Autonoma de Madrid & Antarctic Researcher
Carol Devine, Explorer, writer, speaker, humanitarian
Joaquín Araujo, naturalist and writer
Rosa Martinez, member of parliament for Bizkaia region – Unidos Podemos
Fernando Moleres, current affairs & human rights photographer, Melting Landscape Artico
Paco Gómez, photographer and writer. Co-author of "Volverás a la Antártida"
Jorge Riechmann, Associate Professor (Ethics and political philosophy), Universidad Autónoma de Madrid
Carolina Punset, MEP, Group of the Alliance of Liberals and Democrats for Europe
Heinz Otto, Hamburg board member of @BWEev, German WindEnergy Association
Avataq – Greenland's association for nature and environment
Zaria Forman, artist
Xavier Pastor, Oceanographer. Former Director of Greenpeace Spain, Oceana Europe, Balearic Ornithological Group Mallorca and Marviva
Valentín Carrera, Journalist & writer. Chronicler of the first and 30th  Spanish scientific expeditions to the Antarctic
George Monbiot, Journalist, environmentalist, writer and Columnist for the Guardian
Pen Hadow, Explorer
The University of the South Pacific
Rosa M. Tristán, Environmental journalist and author
Yann Arthus-Bertrand, Photographer, journalist, environmentalist, film director
Camille Seaman, Polar regions photographer
Philomene Verlaan, Oceanographer and Law of the Sea Specialist
ACOPS – Advisory Committee on Protection of the Sea
bound4blue – wingsail technology to reduce fuel consumption and emissions of maritime transport
Francesc Bailón, anthropologist- specialist in Inuit culture
Dr Kathrin Stephen, Scientific Project Leader, Institute for Advanced Sustainability Studies (IASS), Potsdam
Prof. Dr Mark Lawrence, Scientific Director, Institute for Advanced Sustainability Studies (IASS), Potsdam
Dr. Françoise Breton Renard, Director,  Arctic Research Centre (CER-ARCTIC), Departament de Geografia, Universitat Autònoma de Barcelona
Margaux Isaksen, 3 time U.S. Olympian and environmental advocate
Arjen van der Veen, Founder & Director Fairtransport Rotterdam
Nancy Lord, Former Alaska Writer Laureate, author of Early Warming: Crisis and Response in the Climate-changed North and pH: A Novel
Ben Porter – Photographer, lifelong naturalist with a passion for birds, wildlife photography and the outdoors
Anne Lydiat, Artist & researcher and voyager to the Arctic, on the footsteps of Louise Arner Boyd
Sail Against Plastic,  a collaborative expedition of 24 scientists, sailors, artists, photographers and film makers revealing the hidden threats facing the Arctic
Stiftung 2° – Deutsche Unternehmer für Klimaschutz, Foundation 2° – German CEOs for climate protection
Deutsche Bahn AG, German national rail network
Otto Group, a worldwide operating retail trust and contractor with business activity in over 20 countries
Prof. Han Lindeboom – Emeritus professor in Marine Ecology at Wageningen University & Research and Senior Advisor at Royal NIOZ and Wageningen Marine Research, NL
Charles Moore – Oceanographer, founder of Algalita Marine Research and Education, Skipper of Research Vessel Alguita
Kiliii Yuyan, indigenous Hézhè & Chinese-American award-winning photographer, filmmaker, journalist and Arctic specialist
Josep Lluis Pelegrí, Research Professor and Director, Institute of Marine Sciences, Barcelona
Kai Müller, KMphoto-Expeditions
AEMALIRE, Aerial Marine Litter Research
Mme. Agnes M. Sigurðardóttir,the bishop of the Evangelical Lutheran Church of Iceland (ELCI)
Magdalena Adlberger – Musician
Albert Barniol, Spanish TV meteorologist
The Gallifrey Foundation – working collaboratively to advance marine protection and social enterprise
ACOMET – Asociación de Comunicadores de Meteorología
Joel Clement – Senior Fellow, Harvard Belfer Center Arctic Initiative
Adam Hammond, Expedition Leader and Shipping Financier
Nordic Ocean Watch (NOW) – an environmental collective dedicated to taking care of the ocean
Ed O'Loughlin, writer and journalist, author of "Minds of Winter"
Greenoxx Global Environmental Program
Prof. Dr. William M Megill, Hochschule Rhein-Waal, Rhine-Waal University of Applied Sciences
D. Michael Adams, CEO & Founder, Ocean Assets Institute
Hellenic Ornithological Society / Ελληνική Ορνιθολογική Εταιρεία
ZERO – Associação Sistema Terrestre Sustentável / Association for the Sustainability of the Earth System
La Fura dels Baus – theatrical company, Barcelona
Carlus Padrissa – Artistic Director
Nova Ruth – life artist, musician and activist
Grey Filastine – composer and video artist
PONANT – French cruise line and world leader in luxury expeditions
Piel de Atún – Innovation platform for sustainability
Antxon Olabe, environmental economist, author and adviser to the Spanish ecological transition Minister
The Climate Reality Project – Europe
Peggy Liu, Chairperson, JUCCCE – Greening China Together
Jorne Langelaan – Founder & Captain – EcoClipper – a professional shipping company that offers emission-free transport and travel
Catherine Rowett, MEP, Group of the Greens/European Free Alliance
Brim Explorer – energy efficient and silent hybrid-electric ship, built specifically for Arctic ocean excursions
Carlos Bravo Villa – environmental consultant – climate and sustainable transport
Juan Ignacio López Moreno – Geographer and Scientific Researcher – Instituto Pirenaico de Ecología-CSIC
Mar Gómez, Ph.D. Physics – Head of Meteorology – Eltiempo.es
Brita Knutsen Dahl – founder and CEO – Basecamp Explorer
Manu Sayani-Mulji – Faculty of Social Sciences, McMaster University, Ontario, Canada
Luc Hardy – PAX ARCTICA – Exploration & Environmental Advocacy
Hudson Shipping Lines – Clean & Green
Michael O. Snyder – photographer, filmmaker, and environmental scientist
Carmen Gros
Fondation Prince Albert II de Monaco / Prince Albert II of Monaco Foundation
Cory Trépanier – Canadian painter, filmmaker, explorer (Into the Arctic project)

Jim McNeill – Explorer & Founder of

Ice Warrior
We invite your organisation to also become part of this historic commitment, which aims to protect Arctic communities and ecosystems from the risks posed by the use of heavy fuel oil as marine fuel. To sign the Arctic Commitment, please contact the Clean Arctic Alliance.