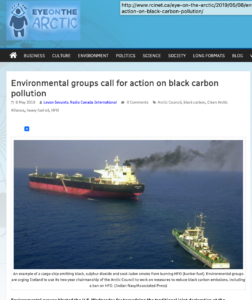 Radio Canada International, Eye on the Arctic, 8 May 2019:
Environmental groups blasted the U.S. Wednesday for torpedoing the traditional joint declaration at the conclusion of the biennial Arctic Council ministerial meeting in Rovaniemi, in northern Finland, and called on Arctic nations to redouble their efforts to fight black carbon pollution in the region.
For the first time in the Arctic Council's 23-year history, the ministerial summit was unable to reach a consensus on issuing a joint declaration, after the U.S. delegation headed by Secretary of State refused to sign the Rovaniemi Declaration on challenges in the Arctic due to differences over climate change wording, diplomats said on Tuesday.

Instead, in a brief statement, ministers from the United States, Canada, Russia, Finland, Norway, Denmark, Sweden and Iceland repeated their commitment to sustainable development and the protection of the Arctic environment.

"The U.S. government's blatant disregard of the changes taking place in the Arctic, which has lost three-quarters of summer sea ice in the last four decades, only serves to underline the need for the Arctic nations to reaffirm their commitment to reducing black carbon emissions, through collaboration within the International Maritime Organization (IMO)," said Sian Prior, lead advisor to the Clean Arctic Alliance.