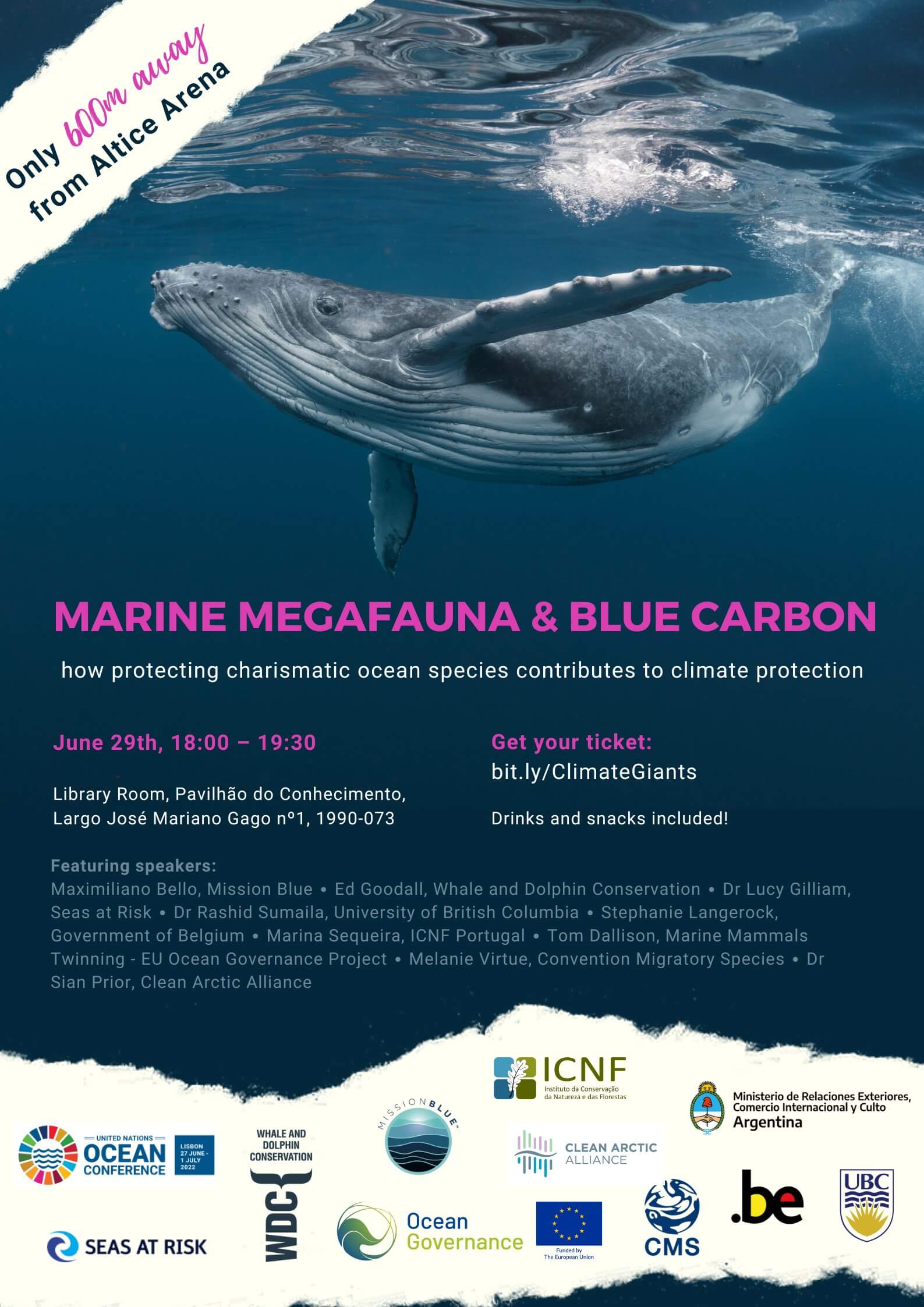 Restoring ocean biomass and marine megafauna is climate action. New knowledge brings a renewed focus and urgency to the benefit the SDGs.
A Whale and Dolphin Conservation Event 
Wed, 29 June 2022
18:00 – 19:30 BST
Location: Pavilhão do Conhecimento – Ciência Viva
nº1 Largo José Mariano Gago
1990-073 Lisboa
Portugal
The restoration of ocean biomass and a return to pre-exploitation abundance is in fact climate action. The more we learn about the ecosystem functioning of marine fauna and in particular megafauna such as whales, the more it becomes apparent they demand a renewed focus and urgency for the benefit of multiple SDGs. This side-event will showcase how marine megafauna are performing ecosystem services at a vastly reduced capacity due to their intensive over-exploitation. We will lay out the steps that needed for recovery of ocean life to help us all in the greatest challenge of our generation.
Join us for an official UN Ocean Conference side event at the stunning Pavilhão do Conhecimento (Pavilion of Knowledge), just 600m from the Altice Arena with our incredible selection of speakers, including:
Maximilliano Bello – Mission Blue
Dr Rashid Sumaila – University of British Columbia
Dr Lucy Gilliam – Seas at Risk
Tom Dallison – Ocean Governance Project, Marine Mammal Twinning
Ed Goodall – Whale and Dolphin Conservation
Dr Sian Prior – Clean Arctic Alliance
Stephanie Langerock – Government of Belgium
Marina Sequiera – Instituto da Conservação da Natureza e das Florestas (Portugal)
Drinks and snacks will be provided for ticket holders. Please only reserve a ticket if you intend on intending, so we can manage numbers effectively.