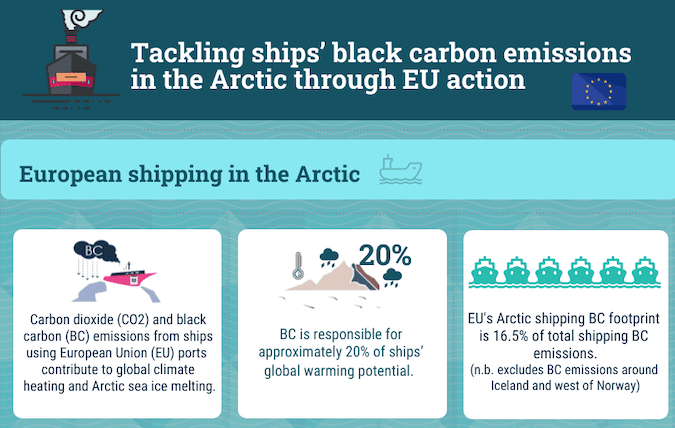 Brussels, 19 October 2022:- Responding to the 19 October EU Parliament Vote on the FuelEU Maritime Regulation, Clean Arctic Alliance Lead Advisor Dr Sian Prior said:
"While the Clean Arctic Alliance acknowledges some progress on long-term targets for shipping decarbonisation in the European Parliament's vote on the FuelEU Maritime Regulation, the regulation fails to protect the Arctic from the impact of shipping black carbon emissions. Despite the EU's Arctic strategy supporting efforts to reduce black carbon emissions, and leading the drive for zero emission and zero pollution shipping in the Arctic Ocean, the EU's supposed 'landmark' agreement ignores black carbon – 20% of shipping's climate impact. In doing so, it fails to keep shipping CO2e emission reductions in-line with IPCC calls for deep emission reductions of short-lived climate forcers such as black carbon and halving C02e emissions by 2030."
ENDS
Contact: Dave Walsh, Communications Advisor, [email protected]
Notes: 
Press conference by Ismail ERTUG and Jörgen WARBORN, rapporteurs on alternative fuels infrastructure and sustainable maritime fuels
Video Q&A: Why the EU's Fit for 55 Package of Climate Regulations Must Include Black Carbon from Ships
Infographic: Tackling ships' black carbon emissions in the Arctic through EU action
About the Clean Arctic Alliance
Made up of 20 not-for-profit organisations, the Clean Arctic Alliance campaigns to persuade governments to take action to protect the Arctic, its wildlife and its people.
Members include: The Altai Project, Alaska Wilderness League, Bellona, Clean Air Task Force, Green Transition Denmark, Ecology and Development Foundation ECODES, Environmental Investigation Agency, Friends of the Earth US, Global Choices, Greenpeace, Iceland Nature Conservation Association, International Cryosphere Climate Initiative, Nature And Biodiversity Conservation Union, Ocean Conservancy, Pacific Environment, Seas At Risk, Surfrider Foundation Europe, Stand.Earth, Transport & Environment and WWF.
More more information visit https://www.cleanarctic.org/
Twitter: https://twitter.com/CleanArctic