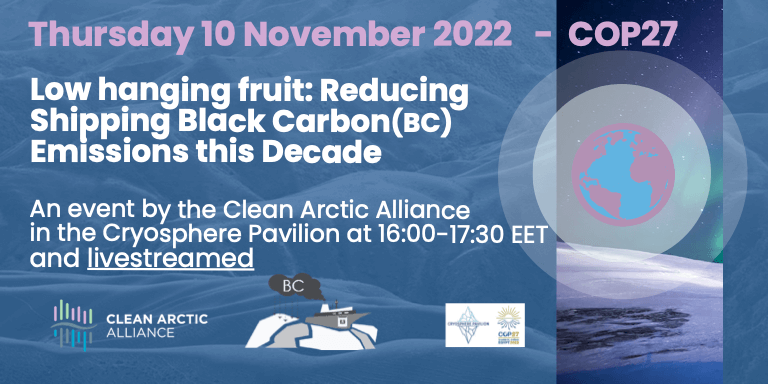 Venue: COP27 Cryosphere Pavilion & livestreamed
Time & Date: Thursday 10th November @16.00 (EET) – 15:00 (CET) – 14.00 (UK)
This event will respond to the urgency, conveyed by the latest IPCC reports, to reduce emissions of short-lived climate forcers such as black carbon, along with greenhouse gases, by focusing on the shipping sector. It will consider the perspective of Indigenous communities and communities from low-lying island States. It will set out options and proposed immediate actions which would kick-start reductions in ships' emissions that impact the Arctic.
Speakers: 
Moderator: Pam Pearson, International Cryosphere Climate Initiative
Dr Robbie Mallett, University College London, on climate science – in-person
Lisa Koperqualuk, Inuit Circumpolar Council on Indigenous perspectives – in-person
John Kautoke, Kingdom of Tonga Embassy to the UK, on South Pacific Island perspectives – virtual
Madeleine Rose, Pacific Environment – in-person
Dr Sian Prior, Clean Arctic Alliance – confirmed – virtual
Livestream:
The event will be livestreamed to the following platforms, and also available for viewing later.
For more information, contact [email protected]
For press enquiries, contact [email protected]