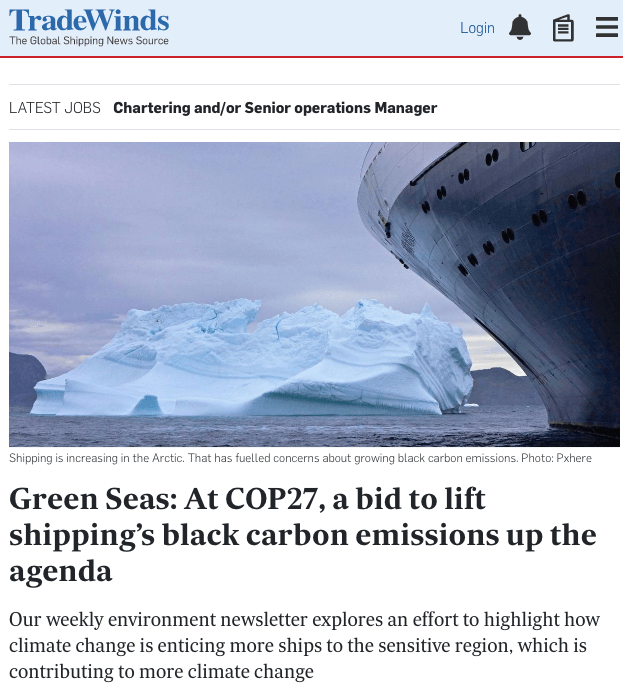 Eric Priante Martin on TradeWinds, 16 November 2022: At COP27, a bid to lift shipping's black carbon emissions up the agenda
There is perhaps no more iconic front line in the battle against climate change than the Arctic, where scientists say temperatures have risen by three times the global average.

That has led to a dangerous feedback loop. Global warming melts the sea ice, but that ice actually helps keep the planet cooler by reflecting some if the sun's rays, so when it goes away, it threatens to make climate change worse.

And this has opened the door to another feedback loop. Rising temperatures open the door to shipping in the Arctic, and ships bring a pollutant that makes the situation worse.

Black carbon, or soot, absorbs rather than reflects solar radiation when its particles land on the snow and ice.

In the halls of the United Nations' COP27 climate conference taking place in Egypt, experts and environmental groups have been looking to elevate the importance of black carbon emissions in the global greenhouse gas debate.

Environmentalists see black carbon as one of the low-hanging fruit of the climate change efforts, since much can be done by switching to a widely available fuel.

…

Clean Arctic Alliance lead advisor Sian Prior, whose organisation is a coalition of non-profit groups, said a fuel switch alone could cut black carbon emissions by 40% to 44%, and then installing diesel particulate filters could add to that.

Sian Prior is a lead advisor at Clean Arctic Alliance, which is a coalition of non-profits working to protect the Arctic environment. Photo: Clean Arctic Alliance

She said this needs to happen at a latitude of least 60 degrees north of the equator, but ideally 40 degrees north.

"And if we could reduce back carbon emissions from all the ships operating north of those latitudes, we would see very dramatic differences in the Arctic," Prior said.

She added that the results would be seen very quickly.
See also:
Podcast from TradeWinds GreenSeas: At COP27, a bid to lift shipping's black carbon emissions higher on the climate agenda