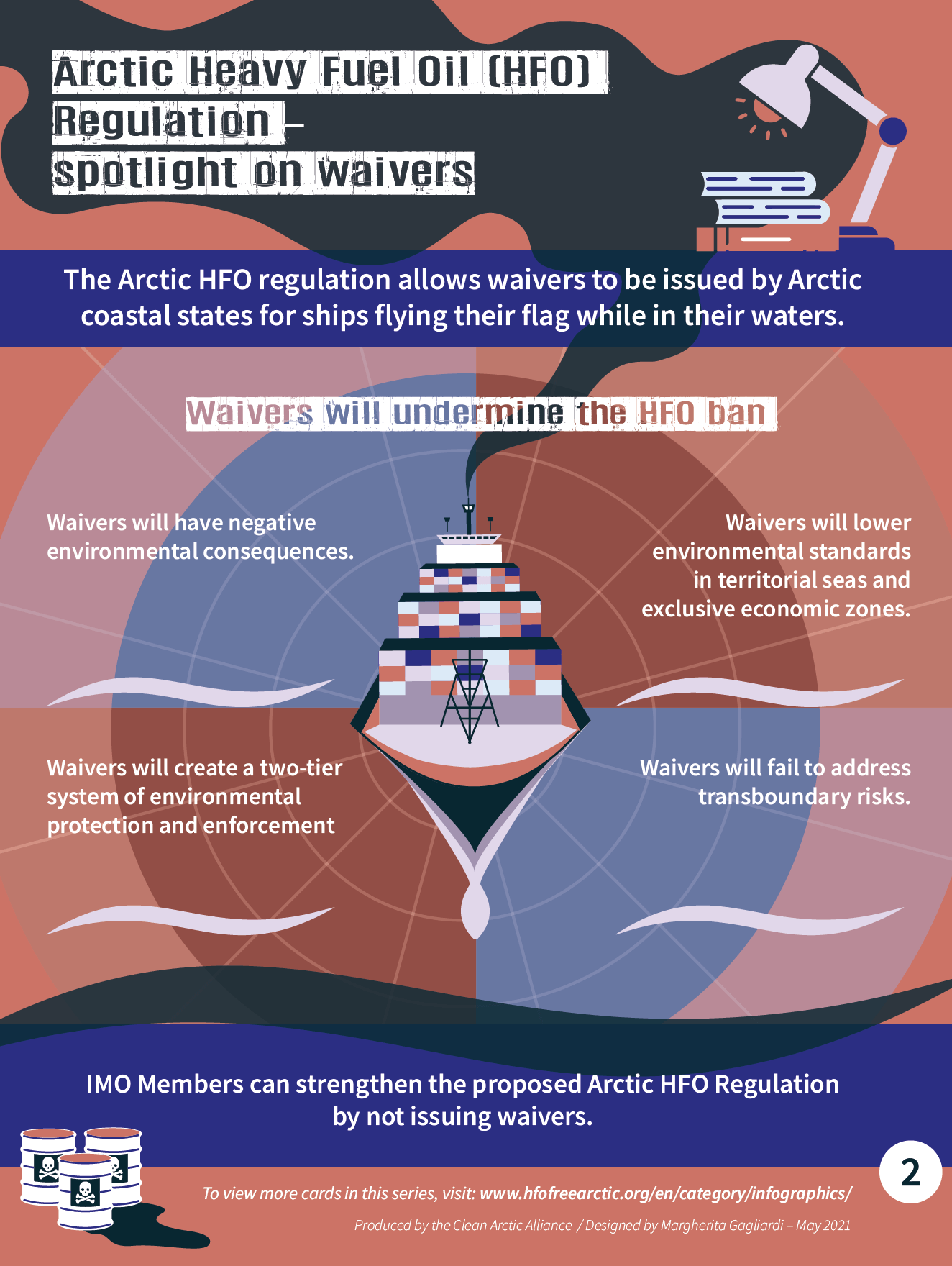 London, 17 November 2022:- Responding to media reports that Canada and Russia have written letters to the International Maritime Organization (IMO), stating their reasons for not implementing the 2024 prohibition on heavy fuel oil (HFO), Dr Sian Prior, lead advisor to the Clean Arctic Alliance said:
"​​IMO Member States must now strengthen the Arctic heavy fuel oil fuel prohibition regulation by removing the option for Arctic coastal states to issue waivers to the requirements, particularly since it appears that Russia – who pushed for the ability to issue waivers – is delaying approval of the Arctic HFO prohibition amendments which brought the ban into effect."
According to media reports, Canada has written to the IMO stating that although "it fully support and intends to comply with the [MARPOL Annexe 1, June 15 2021] amendments", it cannot, as "it may not have finalized its treaty adoption process prior to the entry of the amendments". The letter goes on to say that "Canada has begun its domestic procedures and will inform the [IMO] of their completion in a subsequent note".
Russia has also informed the IMO last month that "the amendments as adopted by the Resolution MEPC.329(76) will not enter into force for the Russian Federation on the 1st of November, 2022", however unlike Canada, there is no indication of when Russia's amendments will be introduced.
"Canada must rapidly develop its Arctic HFO ban implementation plan", said Sam Davin, Senior Specialist, Marine Conservation & Shipping at WWF Canada. "With Arctic vessel traffic continuing to increase, it's urgent Canada puts in place a plan to rid the Canadian Arctic of the world's most hazardous and polluting marine fuel. The Clean Arctic Alliance calls on Canada to exclude loopholes such as so-called 'waivers' which would exempt ships from the ban, and set up a federal marine fuel transition fund to ensure any negative economic consequences from the ban's implementation do not adversely impact communities in the north. Canada should also require all ships operating in domestic waters to use cleaner alternatives to heavy fuels, such as distillates, as Norway has done in the waters of the Svalbard archipelago."
"It is over a decade since the Arctic Maritime Shipping Assessment report identified accidental or illegal discharges of oil as the most significant threat from ships to the Arctic, and since a ban on heavy fuels was introduced for the Antarctic. Next month there is an opportunity for urgent discussions at the International Maritime Organization (IMO) to ensure that all nations flagging ships which use the Arctic don't circumvent the new Arctic HFO ban regulation, and to strengthen its application and effectiveness in protecting the Arctic and its people, wildlife and ecosystems", concluded Prior.
Background: 
Regulation 43A of MARPOL Annex I took effect on 1 November 2022, and prohibits the use and carriage of heavy fuel oil as fuel by ships operating in Arctic waters from 1 July 2024. However, exemptions are allowed for ships with protected fuel tanks and temporary waivers can be issued by Arctic coastal states for ships flying their flags while operating in waters subject to their sovereignty or jurisdiction until 1 July 2029.
Members of the Clean Arctic Alliance have submitted a proposal to the 79th Session of the International Maritime Organization's Marine Environment Protection Committee (December 12th-16th December 2022) calling on IMO Member States to amend regulation 43A of MARPOL Annex I to increase its effectiveness at protecting the Arctic from the risks of a HFO spill (MEPC 79/14/1).
Contact:
Dave Walsh, Communications Advisor, [email protected], +34 691 826 764
Notes:
High North News, 15 November 2022: Russia and Canada Opt Out of Voluntary Heavy Fuel Oil Ban for Arctic
https://www.highnorthnews.com/en/russia-and-canada-opt-out-voluntary-heavy-fuel-oil-ban-arctic
Portnews.ru, 10 November 2022: Russia and Canada notify IMO of not acceding to prohibition on HFO use by ships in Arctic
https://en.portnews.ru/news/338233/
Russia's letter to the IMO can be found here: Ref (portnews.ru)
Canada's letter to the IMO is here: Ref (portnews.ru)
Both documents can also be found in the non-public area of the IMO website, and can be requested from the IMO.
About the Clean Arctic Alliance
Made up of 20 not-for-profit organisations, the Clean Arctic Alliance campaigns to persuade governments to take action to protect the Arctic, its wildlife and its people.
Members include: The Altai Project, Alaska Wilderness League, Bellona, Clean Air Task Force, Green Transition Denmark, Ecology and Development Foundation ECODES, Environmental Investigation Agency, Friends of the Earth US, Global Choices, Greenpeace, Iceland Nature Conservation Association, International Cryosphere Climate Initiative, Nature And Biodiversity Conservation Union, Ocean Conservancy, Pacific Environment, Seas At Risk, Surfrider Foundation Europe, Stand.Earth, Transport & Environment and WWF.
More more information visit https://www.cleanarctic.org/