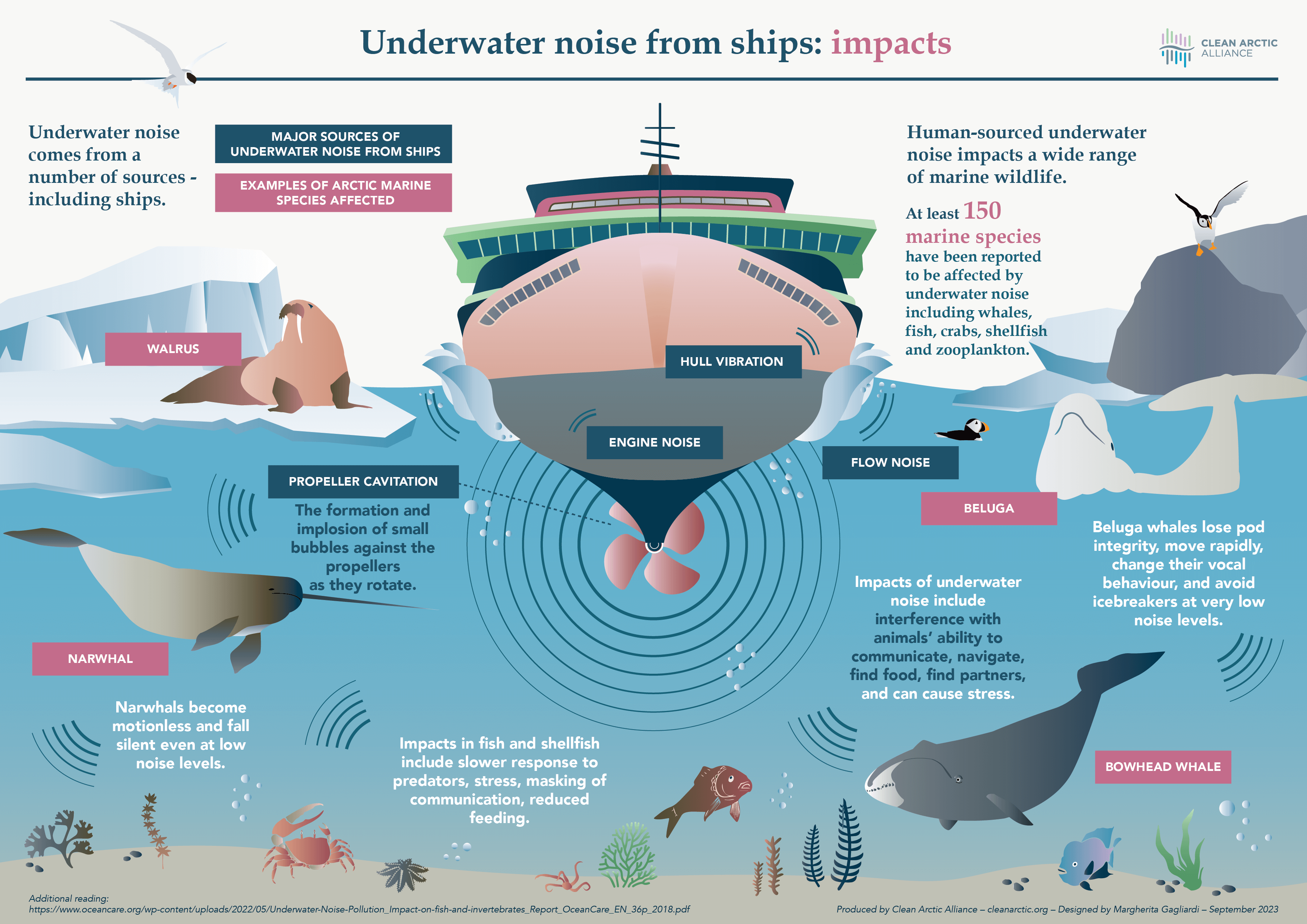 View new infographic: Underwater Noise From Ships
19 September 2023: As a workshop exploring the relationship between energy efficiency and underwater radiated noise from shipping closes today at the International Maritime Organization (IMO) in London, the Clean Arctic Alliance called for international action to support the sector's transition to ships that are both more efficient and quieter as efforts to decarbonise the global shipping fleet are stepped-up.
"The message from this workshop couldn't be clearer: the IMO must design its future climate regulations, especially those targeted at cutting emissions deeply before 2030, keeping in mind both CO2 emissions and the urgent need to reduce underwater noise pollution to protect ocean health", said John Maggs, President of the Clean Shipping Coalition. "A healthy ocean is an essential ally in the struggle to limit global heating, and the measures that will bring down climate impacts fast – reduced ship speed and the use of wind power – are also good for ocean health."
"Several speakers agreed there are many ways to reduce underwater noise from shipping, so the time is right to agree on noise reduction measures", said Eelco Leemans, Technical Advisor to the Clean Arctic Alliance. "Canada has initiated measures that could be implemented in the short term in sensitive areas such as the Arctic Ocean. It is also promising to hear that wind propulsion is developing swiftly and is now one of the most promising methods to reduce greenhouse gas emissions and underwater noise and URN at the same time."
Workshop attendees left with a sense of optimism for the work ahead. "We encourage the IMO to develop a toolkit to guide ship design from original requirement specifications to a final design that optimises energy efficiency and underwater noise reduction," said Sarah Bobbe, Senior Program Manager at Ocean Conservancy. "The toolkit could include a step-by-step process that allows evaluation of a number of different treatment options while still meeting the operational specifications of the vessel."
ENDS
Further reading:
18 September 2023: IMO Must Take Opportunity To Reduce Underwater Noise By Transitioning to Cleaner Ships
View new infographic: Underwater Noise From Ships
NRDC blog: Reimagining What it Means to be a Zero-Emission Ship
Clean Arctic Alliance: Underwater Noise Pollution
January 21, 2023: NGOs Welcome Initial Steps But Demand Greater Urgency On Reducing Underwater Noise Pollution and its effect On Marine Life
ENDS
Contact:
Dave Walsh, Communications Advisor, [email protected], +34 691 826 764
About the Clean Arctic Alliance
Made up of 21 not-for-profit organisations, the Clean Arctic Alliance campaigns to persuade governments to take action to protect the Arctic, its wildlife and its people.
Members include: The Altai Project, Alaska Wilderness League, Bellona, Clean Air Task Force, Green Transition Denmark, Ecology and Development Foundation ECODES, Environmental Investigation Agency, Friends of the Earth US, Global Choices, Greenpeace, Iceland Nature Conservation Association, International Cryosphere Climate Initiative, Nature And Biodiversity Conservation Union, Ocean Conservancy, Pacific Environment, Seas At Risk, Surfrider Foundation Europe, Stand.Earth, Transport & Environment, WWF and Zero.
More more information visit https://www.cleanarctic.org/