London, 16 December, 2022:- As a meeting of the International Maritime Organization's Marine Environment Protection Committee closed today in London (MEPC 79), the Clean Arctic Alliance welcomed progress to reduce the impact of GHGs and black carbon emissions from shipping on the Arctic, but called on IMO member states to act decisively to regulate black carbon emissions [1] .
"Shipping's climate impact must halve by 2030 if global heating is to be kept below the Paris Agreement's limit of 1.5 degrees, and action on black carbon is essential if the industry is to reach this objective", said Dr Sian Prior, Lead Advisor to the Clean Arctic Alliance, made up of 20 not-for-profit organisations working to persuade governments to take action to protect the Arctic, its wildlife and its people.
"The Clean Arctic Alliance welcomes the support expressed by many IMO member states for deep cuts in climate impacting emissions from shipping by 2030 and for mandatory regulation of black carbon emissions", said Prior. "However, member states must now bring forward concrete proposals for a black carbon regulation for the IMO's pollution prevention and response sub-committee meeting which meets in April 2023, in order to rapidly reduce the impact of black carbon emissions on the Arctic" [2].
The agenda of MEPC 79 addressed several issues – below are the Clean Arctic Alliance responses:
Greenhouse Gas Ambition
"It seems likely that when the IMO's greenhouse gas strategy is revised next year, it will include a solid commitment to decarbonising the shipping sector by 2050, and many member states have supported high ambition commitments involving deep cuts in emissions by 2030, which are crucial for slowing down the impact of climate change in the Arctic", added Prior. "The IMO is making progress, but there is further to go;member states must use the time between now and its next meeting (ISWG, GHG14, 20 to 24 March 2023) to reflect on the science which points clearly to the need both for a halving of emissions from shipping by 2030 and full decarbonisation of the maritime sector as close as possible to 2040, rather than 2050".
Black Carbon 
"The Clean Arctic Alliance welcomes the support by several IMO member states for a mandatory regulation on black carbon emissions impacting the Arctic, and the decision to forward our proposal for a new black carbon regulation to the Pollution Prevention and Response (PPR 10) sub-committee for further consideration in April 2023", said Prior.
A paper by Clean Arctic Alliance members considered during MEPC 79 sets out a possible black carbon regulation – by introducing a new regulation in the MARPOL Convention Annex VI Chapter 3 which would require ships to only use distillate or other cleaner fuels or forms of propulsion in and near to the Arctic [3].
"It is now imperative that IMO member states bring forward a concrete proposal for reducing black carbon emissions at PPR10. The IMO has spent over a decade talking about the impact of ships' black carbon emissions on the Arctic – the IMO and its members must now agree on, and take action if we are to have any hope of slashing shipping's contribution to the climate disaster unfolding in the Arctic", she said
"Reducing the impact of black carbon on Arctic snow and ice would have a rapid and dramatic reduction in the impact of shipping emissions on the planet's climate – this is why action in the shipping sector to reduce black carbon emissions can and should start immediately, by simply switching to cleaner fuels and installing particulate filters", added Prior.
When black carbon, a potent climate forcing pollutant with an impact over three thousand times that of CO2 and responsible for around 20% of shipping's climate impact (on a 20 year basis), is emitted from the exhausts of ships burning fuel such as heavy fuel oil (HFO) and settles onto snow and ice, it accelerates melting and the loss of reflectivity – the albedo effect – which creates a feedback loop that further exacerbates local and global heating.
See our "tipping points" infographic: Fast Track to Climate Disaster
On Scrubbers and Discharges of Wastewater into the Oceans
"It is disappointing that the IMO has achieved no progress this week towards banning the use of scrubbers in sensitive areas such as the Arctic", said Eelco Leemans, Clean Arctic Alliance Technical Advisor.
"However, MEPC 79 has agreed that a paper submitted by Clean Arctic Alliance members identifying inconsistencies between the discharge of scrubber wastewater and the UN Law of the Sea Convention should be considered further by the IMO's legal division. This is an important development since it is clear that the UN Convention on the Law of the Sea (UNCLOS) does not accept transforming one type of pollution into another form of pollution as scrubbers do. In the meantime IMO Member States should ban scrubber discharge in their own waters and ship owners and operators should switch to low sulphur fuels and not install scrubbers which create ocean pollution." [4]
See infographic: Scrubbers – A false solution to the IMO's Sulphur Cap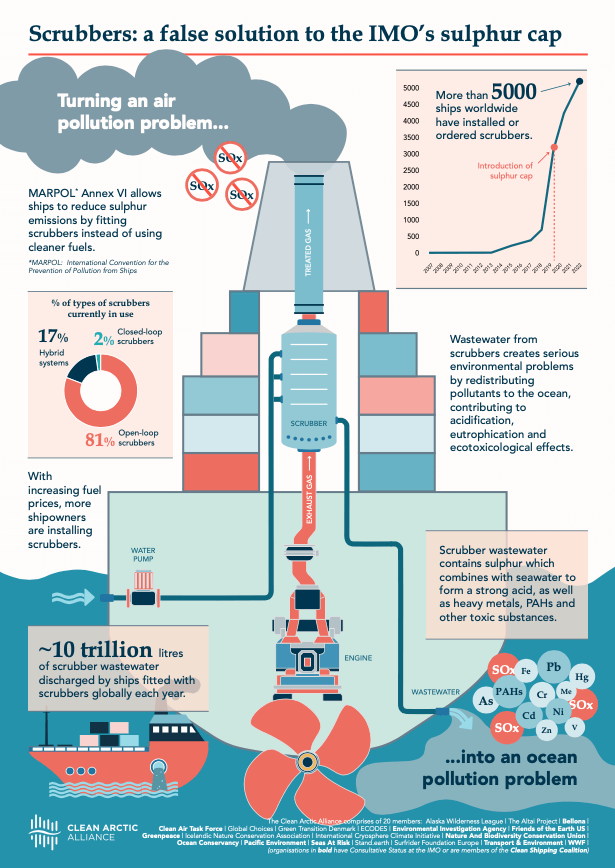 On Strengthening the Heavy Fuel Oil Ban 
During MEPC 79 IMO member states did not support a proposal from the Clean Arctic Alliance to strengthen the Arctic heavy fuel oil (HFO) ban by removing the ability for Arctic coastal countries to issue waivers to their flagged ships. However, many Arctic states were openly expressing the need to strengthen the ban and close the loopholes.
"We implore Arctic coastal states to not include the possibility of issuing waivers in their domestic regulation and to implement a heavy fuel oil ban which comprehensively bans the use and carriage for use of the world's dirtiest fuel in the Arctic", said Prior.
If heavy fuel oil is spilled in cold polar waters, it is likely to break down very slowly, and prove almost impossible to clean up. A HFO spill would have long-term devastating effects on Arctic indigenous communities, livelihoods and the marine ecosystems they depend upon. As sea ice melts and opens up Arctic waters further, even larger non-Arctic state flagged vessels running on HFO may divert to Arctic waters in search of shorter journey times, greatly increasing the risks of HFO spills [5].
Emission Control Areas
"The Clean Arctic Alliance welcomes the adoption of a Mediterranean Sea emission control area for sulphur oxides and particulate matter (SECA), which will take effect from 1st May 2025", said Andrew Dumbrille, Clean Arctic Alliance advisor "Not only is this measure important to improve the protection of the Mediterranean Sea and improve the health of coastal inhabitants in the region, but it will contribute to efforts to reduce emissions that have the potential to impact the Arctic." [6]
"The Clean Arctic Alliance also welcomes the support that was indicated by some IMO member states for consideration of new emission control area proposals to address emissions of both SOx, NOx and particulate matter in both European waters and the Arctic", added Dumbrille. "Now these member states must get to work to develop proposals to put in place control measures, such as ECAs, to reduce air and climate emissions from shipping".
"For states such as Canada and the US, extending their ECAs to the Arctic would provide comprehensive protections for all communities, including Indigenous communities, and especially to ice covered areas,"continued Dumbrille. "In addition, designation of ECAs in all European waters would be valuable to reduce black carbon reaching the Arctic from further south."
ENDS
Contact: 
Dave Walsh, Communications Advisor, [email protected], +34 691 826 764
Notes:
See also – December 12: MEPC 79: Slashing Black Carbon Emissions Would Cut Shipping's Climate Impact This Decade
https://cleanarctic.org/2022/12/12/mepc-79-slashing-black-carbon-emissions-would-cut-shippings-climate-impact-this-decade/
[1] Marine Environment Protection Committee (MEPC) – 79th session, 12-16 December 2022
https://www.imo.org/en/MediaCentre/MeetingSummaries/Pages/MEPC-79-Preview.aspx
[2] PPR10, April 2023
This meeting, PPR 10 is due to consider the report of a Correspondence Group which has addressed three ToR on black carbon including the consideration of regulation and control measures.
[3] MEPC 79/5/5: Amending MARPOL Annex VI to Reduce the Impact on the Arctic of Emissions of Black Carbon
https://cleanarctic.org/2022/10/07/mepc-79-5-5-amending-marpol-annex-vi-to-reduce-the-impact-on-the-arctic-of-emissions-of-black-carbon/
[4] MEPC 79/14/1: Proposal for a revision to MARPOL Annex I regulation 43A on the special requirements for the use and carriage of oils as fuels in Arctic waters
https://cleanarctic.org/2022/10/07/mepc-79-5-3-egcs-and-unclos/
[5] [8] Clean Arctic Alliance, Heavy Fuel Oil
https://cleanarctic.org/campaigns/arctic-biodiversity/heavy-fuel-oil-free-arctic/
[6] 14 June 2022, IMO body grants green light to the proposal on curbing emissions from ships in the Mediterranean
https://www.unep.org/unepmap/news/news/imo-body-grants-green-light-joint-proposal-curbing-emissions-ships-mediterranean
MEPC 79/3/6: Emission Control Areas (ECAs) – work in progress for cleaner air and healthy coastal communities
https://cleanarctic.org/2022/10/22/mepc-79-3-6-emission-control-areas-ecas-work-in-progress-for-cleaner-air-and-healthy-coastal-communities/
About the Clean Arctic Alliance
Made up of 20 not-for-profit organisations, the Clean Arctic Alliance campaigns to persuade governments to take action to protect the Arctic, its wildlife and its people.
Members include: The Altai Project, Alaska Wilderness League, Bellona, Clean Air Task Force, Green Transition Denmark, Ecology and Development Foundation ECODES, Environmental Investigation Agency, Friends of the Earth US, Global Choices, Greenpeace, Iceland Nature Conservation Association, International Cryosphere Climate Initiative, Nature And Biodiversity Conservation Union, Ocean Conservancy, Pacific Environment, Seas At Risk, Surfrider Foundation Europe, Stand.Earth, Transport & Environment and WWF.
More more information visit https://www.cleanarctic.org/